January 22, 2018
For today's bulletin, we take a look at Roadrunner Transportation Systems (RRTS). We also provide a link to download a FREE STOCK REPORT on the company.
VALUATION WATCH: Because overvalued stocks now make up 64.16% of our stocks assigned a valuation and 29.46% of those equities are calculated to be overvalued by 20% or more, we have once again re-insitituted a Valuation Watch. Fifteen sectors are calculated to be overvalued.

If you cannot display this bulletin properly, GO HERE

To subscribe to our bulletins and receive content whenever it is published, subscribe at our blog HERE
--Truckin'

Roadrunner Transportation Systems Is ValuEngine BUY Amidst Nationwide Capacity Shortage
Roadrunner Transportation Systems, Inc.(RRTS) is a non-asset based transportation and logistics services provider offering a full suite of solutions, including customized and expedited less-than-truckload, truckload and intermodal brokerage, and domestic and international air. The Company utilizes a proprietary web enabled technology system and a third-party network of transportation providers to serve a diverse customer base in terms of end market focus and annual freight expenditures. Its third-party transportation providers consist of individuals or small teams that own or lease their own over-the-road transportation equipment and asset-based, over-the-road transportation companies. As a non-asset based transportation provider, the Company does not own any tractors or other power equipment used to transport its customers' freight. Roadrunner Transportation Systems, Inc. is headquartered in Cudahy, Wisconsin.
There are many old trader/investor maxims out there, and one of the oldest is known as "Dow Theory." With Dow Theory, one looks at the Dow Jones Transportation Average (DJTA) to see how the overall Dow Jones Industrial Average (DJIA) is going to perform in the near future. If the DJTA hits a high, the overall Dow will soon follow suit--and vice-versa.

This guideline essentially argues that one can use transportation stocks a leading indicator for economic activity and thus, market performance. Basically, we look to transports and if we see them doing well, we expect that the rest of the economy and the market will follow suit, since transports often show a booming economy before other indicators. So, when one sees a story in today's Wall Street Journal about trucking shortages for shippers across the US, one takes notice.

The article notes that many shippers are facing increased costs for trucks to handle their goods--if they can even find the space, and that some are limiting their shipping to all but the most critical components. The article notes that December was a near-record month for freight volume, and that in some markets the cargoes outnumbered the available trucks by a ratio of 10:1.

However, is this shortage really a leading indicator? The article also notes that new regulations may be to blame, as driver safety is now at the forefront. Firms are installing electronic monitoring devices to make sure drivers get the proper rest and can be alert whenever they are in their cabs. Enforcing regulations may be removing capacity from the road as drivers must now stop when they exceed hour limits.

When we look at our industry breakdown for trucking, we don't see a lot of BUY-rated companies. So it's hard to see if the industry is booming on the back of the shortages and increased rates--and, one would presume, profits. But, one of the BUY trucking firms we do have right now is Roadrunner.
ValuEngine continues its BUY recommendation on Roadrunner Transportation Systems for 2018-01-23. Based on the information we have gathered and our resulting research, we feel that Roadrunner Transportation Systems has the probability to OUTPERFORM average market performance for the next year. The company exhibits ATTRACTIVE Price Sales Ratio and Book Market Ratio.

You can download a free copy of detailed report on Roadrunner Transportation Systems, Inc.(RRTS) from the link below.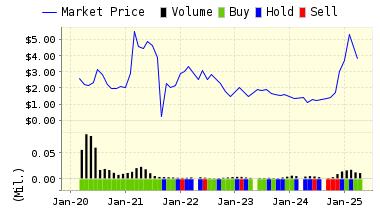 ValuEngine Forecast

Target
Price*

Expected
Return

1-Month

7.82
0.69%

3-Month

8.05
3.66%

6-Month

8.00
3.01%

1-Year

8.41
8.28%

2-Year

9.68
24.58%

3-Year

11.07
42.53%
Valuation & Rankings

Valuation

n/a

n/a

1-M Forecast Return

0.69%

1-M Forecast Return Rank

89

12-M Return

-27.65%

6

Sharpe Ratio

-0.34

23

5-Y Avg Annual Return

-17.11%

5-Y Avg Annual Rtn Rank

23

Volatility

50.22%

34

Expected EPS Growth

-1.94%

15

Market Cap (billions)

0.29

Size Rank

44

Trailing P/E Ratio

15.04

82

Forward P/E Ratio

15.34

Forward P/E Ratio Rank

60

PEG Ratio

n/a

PEG Ratio Rank

n/a

Price/Sales

0.15

97

Market/Book

0.47

94

Beta

0.72

Beta Rank

54

Alpha

-0.43

Alpha Rank

14
DOWNLOAD A FREE SAMPLE OF OUR ROADRUNNER TRANSPORTATION SYSTEMS (RRTS) REPORT BY CLICKING HERE
ValuEngine.com is an Independent Research Provider (IRP), producing buy/hold/sell recommendations, target price, and valuations on over 5,000 US and Canadian equities every trading day.
Contact ValuEngine at (800) 381-5576 or support@valuengine.com
Visit www.ValuEngine.com for more information
ValuEngine Capital Management LLC is a Registered Investment Advisory (RIA) firm that trades client accounts using ValuEngine's award-winning stock research.
Contact ValuEngine Capital at info@valuenginecapital.com
Visit www.ValuEngineCapital.com for more information