December 12, 2017
For today's bulletin, we take a look at our latest STRONG BUY and BUY upgrades and focus on one of our top upgrades for the day, JetBlue $JBLU. We also provide a link to download a FREE STOCK REPORT on the company.
VALUATION WATCH: Overvalued stocks now make up 58.15% of our stocks assigned a valuation and 22.11% of those equities are calculated to be overvalued by 20% or more. Because overvaluation has declined below 60%, we have rescinded our latest Valuation Watch. Thirteen sectors are calculated to be overvalued.

If you cannot display this bulletin properly, GO HERE

To subscribe to our bulletins and receive content whenever it is published, subscribe at our blog HERE
--Wild Blue Yonder

ValuEngine Upgrades JetBlue To STRONG BUY
For today's edition of our upgrade list, we used our website's advanced screening functions to search for UPGRADES to BUY or STRONG BUY with complete forecast and valuation data. They are presented by one-month forecast return. JetBlue is rated a STRONG BUY. The rest of today's upgrades are rated BUY.
| | | | | | | | | |
| --- | --- | --- | --- | --- | --- | --- | --- | --- |
| JBLU | JETBLUE AIRWAYS | 22.08 | 18.28% | 1.15% | 1.08% | 12.95% | 12.22 | Transportation |
| PIR | PIER 1 IMPORTS | 5.24 | 0.69% | -23.28% | 0.49% | 5.89% | 14.16 | Retail-Wholesale |
| MTSI | MA-COM TECH SOL | 32.26 | 37.27% | -39.38% | 0.49% | 5.83% | 22.51 | Computer and Technology |
| SMLP | SUMMIT MIDSTRM | 19.75 | -8.38% | -12.22% | 0.46% | 5.56% | 11.90 | Oils-Energy |
| MLHR | HERMAN MILLER | 34.2 | 4.14% | 0.44% | 0.46% | 5.47% | 15.69 | Business Services |
For today's bulletin, we take a look at JetBlue Airways Corporation (JBLU). JetBlue Airways Corporation is a low-fare, low-cost passenger airline, which provides high-quality customer service primarily on point-to-point routes and is based in New York's John F. Kennedy International Airport. .JetBlue carries more than 38 million customers a year to 101 cities in the U.S., Caribbean, and Latin America with an average of 1,000 daily flights.
JetBlue is one of those airlines passengers either love, or hate. Low cost, but low frills. And, like so many airlines these days, the company is constantly trying to squeeze more money from ever more-crowded planes where passengers are --literally-- being squeezed more-and-more with every new seating arrangement.

We've seen some good days for airlines over the past year or two, as their money-making schemes increase the bottom line. However, JetBlue did not necessarily reflect this in their last quarterly earnings report. Back in October, the company reported operating income of $310 million, a decrease of 12.4% from the third quarter of 2016. Pre-tax income of $293 million, a decrease of 11.2% from the third quarter of 2016. Third quarter net income of $179 million, or $0.55 per diluted share. This compares to JetBlue's third quarter 2016 net income of $199 million, or $0.58 per diluted share.
Company CEO Robin Hayes had a variety of explanations for this reduced performance. Hayes noted that
third quarter results were impacted by two hurricanes that reduced our EPS by approximately 6 cents. We are confident that the adjustments we are making to our network will limit any ongoing financial impact in 2018. Despite the short-term challenges, we remain focused on our long-term margin commitments to our shareholders. I'd like to thank our 21,000 Crew members in our operation and support centers, who successfully managed the unprecedented challenge of over 30 consecutive days of irregular operations
Looking forward to the next quarter and the rest of the year, JetBlue management expects capacity to increase between 4.5% and 5.5% year over year in the fourth quarter 2017. For the full year 2017, JetBlue expects capacity to increase between 4.0% and 5.0%. Revenue per available seat mile (RASM) growth is expected to range between (3.0%) and 0.0% for the fourth quarter 2017 compared to the same period in 2016. Cost per available seat mile (CASM) excluding fuel is expected to grow between 5.0% and 7.0% for the fourth quarter of 2017. For the full year 2017, JetBlue expects year over year CASM excluding fuel to grow between 4.0% and 5.0%.

Below is our latest data for JetBlue Airways Corporation (JBLU):

ValuEngine updated its recommendation from BUY to STRONG BUY for JETBLUE AIRWAYS on 2017-12-11. Based on the information we have gathered and our resulting research, we feel that JETBLUE AIRWAYS has the probability to OUTPERFORM average market performance for the next year. The company exhibits ATTRACTIVE P/E Ratio and Sharpe Ratio.

You can download a free copy of detailed report on AMC Networks Inc. (AMCX) from the link below.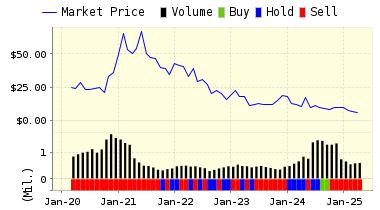 ValuEngine Forecast

Target
Price*

Expected
Return

1-Month

22.43
1.09%

3-Month

22.92
3.27%

6-Month

23.21
4.60%

1-Year

25.10
13.12%

2-Year

28.50
28.46%

3-Year

31.99
44.18%
Valuation & Rankings

Valuation

18.80% overvalued

24

1-M Forecast Return

1.09%

1-M Forecast Return Rank

99

12-M Return

2.64%

43

Sharpe Ratio

0.94

88

5-Y Avg Annual Return

28.59%

5-Y Avg Annual Rtn Rank

93

Volatility

30.51%

51

Expected EPS Growth

1.48%

21

Market Cap (billions)

6.48

Size Rank

84

Trailing P/E Ratio

12.28

88

Forward P/E Ratio

12.10

Forward P/E Ratio Rank

75

PEG Ratio

8.32

PEG Ratio Rank

4

Price/Sales

0.94

72

Market/Book

1.56

65

Beta

0.66

Beta Rank

56

Alpha

-0.06

Alpha Rank

42
DOWNLOAD A FREE SAMPLE OF OUR JETBLUE AIRLINES (JBLU) REPORT BY CLICKING HERE
ValuEngine.com is an Independent Research Provider (IRP), producing buy/hold/sell recommendations, target price, and valuations on over 5,000 US and Canadian equities every trading day.
Contact ValuEngine at (800) 381-5576 or support@valuengine.com
Visit www.ValuEngine.com for more information
ValuEngine Capital Management LLC is a Registered Investment Advisory (RIA) firm that trades client accounts using ValuEngine's award-winning stock research.
Contact ValuEngine Capital at info@valuenginecapital.com
Visit www.ValuEngineCapital.com for more information